In collaboration with:
BACKGROUND
Scale AI launched a call for projects to find ideas and solutions that could help Canada meet the COVID-19 challenge through technology and artificial intelligence (AI).
CargO2AI initiative was developed in the spring of 2020. This AI-based solution makes it possible to optimize the identification and prioritization of critical cargo arriving by container at the Port of Montreal to ensure rapid availability and distribution of essential goods.
Free and open source, this initiative was designed to encourage collaboration between supply chain stakeholders to help frontline responders in the fight against Covid-19.
OBJECTIVES
To make it easier to identify urgent containers to be shipped by truck and rail, and in turn, to cut critical freight transport time.
To support businesses in a comprehensive approach to outreach initiatives that contribute to the smooth flow of freight transport.
To make this tool sustainable for use after the pandemic for other sectors and cargo types.
DOCUMENTATION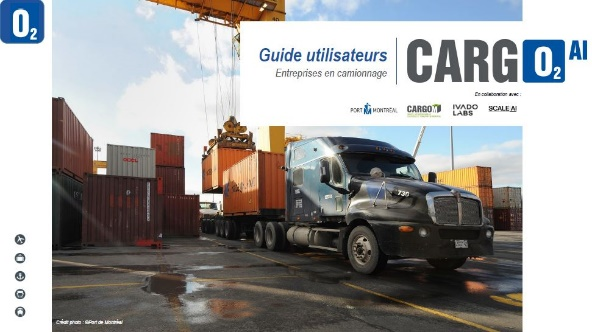 The User Guide is available for trucking companies here and in the Documentation section of the News tab. It outlines the information tools used by port terminals at the Montreal Port Authority to identify and report priority containers to trucking companies.
Join the movement for the health and safety of all!
For more information:
CargoM
Amy Lombard, Project Manager
514-508-2609, ext. 223
alombard@cargo-montreal.ca