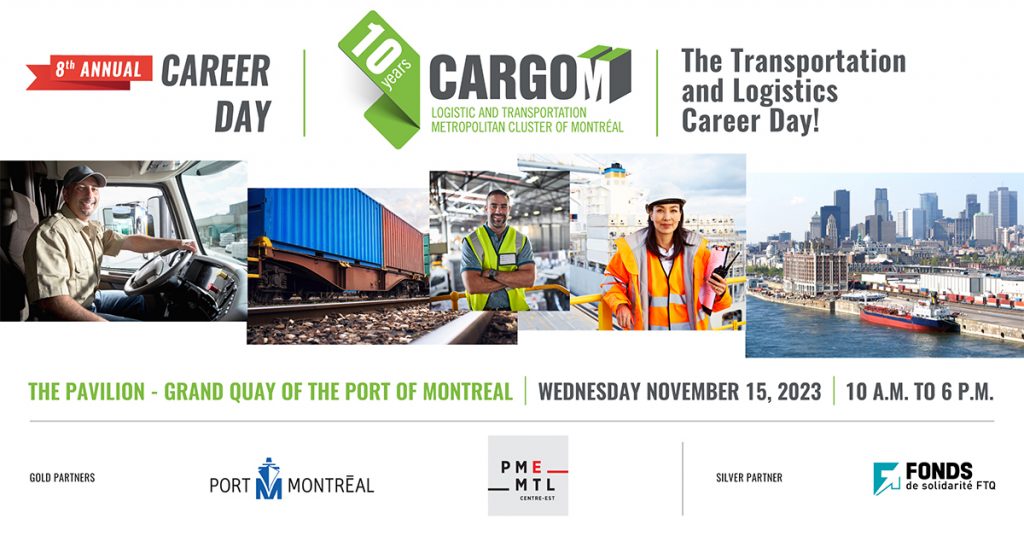 CargoM is delighted to invite you to the 8th edition of its Career Day, a unique event promoting training and trades in the logistics and freight transport sector. This year's event will take place on November 15 at the Port of Montreal's Pavillon du Grand Quai (200, rue de la Commune Ouest, Montreal, Place-d'Armes metro station) from 10 a.m. to 6 p.m.
Rates*:
CargoM member: $300 (+taxes)
Non-member: $600 (+taxes)
* Not including meals and parking fees
Become a gold, silver or bronze partner
For the first time, CargoM is offering to its members and industry partners a visibility opportunity. Depending on your contribution, your company will receive media exposure, a free booth and much more! For more information on sponsorship, please contact Yves Murray, project manager and event manager.
Employeurs de marque: role reversal to win over candidates
PME MTL Centre-Est and CargoM invite you to take part in the " Employeurs de marque" event, to be held in conjunction with Career Day. Come and enjoy a unique experience that allows candidates to immerse themselves in the world of employer branding for organizations that stand out from the crowd.
PME MTL Centre-Est will be showcasing companies which, in just five minutes, will have to stand out from the competition by presenting their mission, values and corporate culture to potential candidates. The purpose of this concept is to quickly build bridges between the employer and future employees, speed up the hiring process and generate unsolicited applications that would not have been generated by a traditional job posting.
For more information about CargoM's Career Day:
Yves Murray
514 508-2609 ext. 226
Companies have confirmed their presence on November 2:
GT Group, Energy Logistics, Courchesne Larose Ltd., Extra multi-ressources, Premier Tech, Logistec, Termont, Camo-route, CFTR, MSC Mediternnean Shipping Inc., Synergie Canada inc, Groupe Desgagnés, Valport, Genesee & Wyoming Canada, Cégep André-Laurendeau, CMA CGM Canada, Groupe Robert, Comité sectoriel de main-d'œuvre de l'industrie maritime (CSMOIM), Wiptec, Ministère des Transports du Québec, CN, Groupe Goyette, Canada Steamship Lines (CSL Group Inc.), SAQ, Ray-Mont Logistics, Port de Montréal, Groupe Morneau, Thibert Inc., Federation Maritme du Canada, Bolloré Logistics Canada, Cole International, CITT, Mely.ai Solutions Inc., Challenger Motor Freight, Martel Express Montreal, VLM Foods Inc., CIRRRELT, Cascades, Association des employeurs maritimes, Services Québec de Montréal (Ministère de l'Emploi et de la Solidarité sociale), Champlain College St-Lambert, Canadian Armed Forces, Oceanex, Groupe Holiday, Enterprise Holdings, Bédard Ressources humaines, Groupe Océan.
Stay informed by subscribing to the CargoM employment and training newsletter (subscription form below).