Hats off to the co-chair of our board of directors, Madeleine Paquin, President and CEO of Logistec, who was honoured last May by the Supply Chain Management Association (SCMA) with its prestigious 2019 SCMA Fellow Award.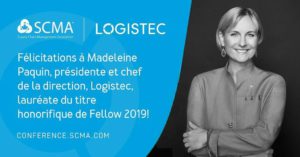 The Cluster attended the Quebec Trucking Association's annual conference, held this year at the Fairmont Tremblant from May 2 to 4. Some 800 delegates, carriers, suppliers and industry partners addressed the theme Beyond the Road – Let's share our knowledge.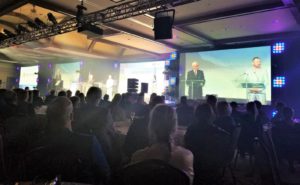 The marine community met on May 13 as part of the Ports of the Future: Challenges, Opportunities and Solutions event. Chantal Rouleau, Minister Delegate for Transport and Minister responsible for the Greater Montreal Area, was one of the speakers who addressed the port issues of tomorrow.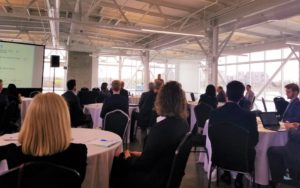 CargoM was at the 18th Annual Conference of the Shipping Federation of Canada on May 22. This event brings together members of the shipping community for a day of discussion, dialogue and networking. Jean-Jacques Ruest, President and Chief Executive Officer of CN, was one of the guest speakers.